Always 100% satisfied
Your own 'Original' design possible
Free shipping
Stand out explosively!
Login
Log in if you have an account
No account yet? Register
Product details
A special party must be specially decorated. Your wedding, the birth of your child, a birthday, 18 years, 40 years, 50 years, 60 years, a company party or just to celebrate something beautiful. Make your party a blast with these personalized garlands as a bunting!
In this way 12linkme turns your party into a personal and truly original experience. Based on your own style, our Designers make your own unique garlands. Completely to your taste.
And through your unique 12linkme name, partygoers connect directly with you on social media or with your own photo album on your Facebook, Insta or your Google Photos to capture unique moments together.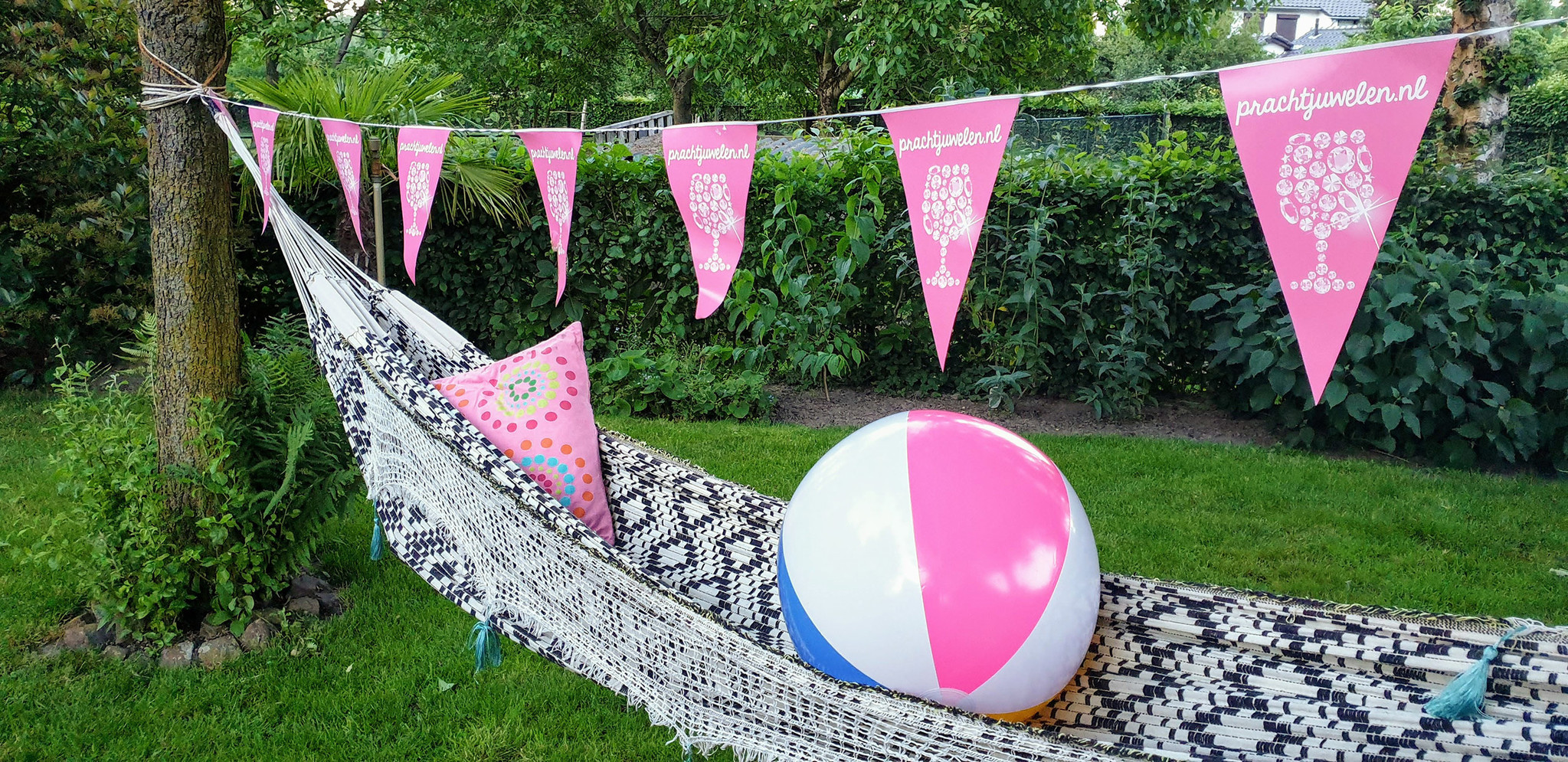 All necessary design hours are already included in the price. You can then continue this design in all other 12linkme Promotions such as birth announcements. Or festive invitation cards for your birthday, party or wedding, with the envelope playfully closed with a sticker seal.
nd of course a beautiful festive announcement sign in the same cool design for your garden.
1..2..linkme > Boom. CONTACT!
Benefits
 A unique flag line. Completely in your own colors and design.
 Our Designers work out your design idea all-in.
 Easy to hang anywhere, 12 flags per line.
 Make your party unforgettable with stickers and other 12linkme gimmicks.
 The quality is so good that you can use the garlands again and again.
 Additional graphic Design help with your Social Media post possible.
Custom design: 'Ask us more!'
Express yourself
With this Original Promotion our 12linkme Designers simply bring your Promotion wishes to life in your own unigue and sensational Design. Boom. The required design hours are included and are already included in the product price.
Do you have a different and even awesome Promotion idea? Other dimensions? Other materials? Other application? Then click on the 'Ask us more!' menu item and our Designers will immediately make an attractive personal all-in offer for you.
Examples
Why does the 12linkme approach work?
Selling your car online with many more response. This is how you do it!
| | |
| --- | --- |
| Quality | Professional Top Quality |
| Material | Eco white gloss 150 gr |
| Printing | Full color two sided |
| Thickness | 0.21 mm |
| Coating | Gloss |
| Shape | Triangular cut flags |
| Subscription | Yes after 1 month |
Reviews
0 stars based on 0 reviews
Add your review
Review Bunting, garlands party, birth, wedding, special occasion 'Original' top quality
Questions


We love to help you

Always available. Preferably online 24/7. By telephone from 9 am to 5 pm CET Mon-Fri.