Always 100% satisfied
Your own 'Original' design possible
Free shipping
Stand out explosively!
Login
Log in if you have an account
No account yet? Register
Interactive baby announcement lawn sign in your own design create and order 'Original' top quality L-XXL
Product details
You want to announce the birth of your child or that of your friend's in a very special way. Appropriate for this time!
That is why 12linkme makes a birth for this baby and for her or his environment a personal and truly original experience. Based on your style and texts, and our help with that, our Designers will create their own unique birth plate for the garden. Completely to your taste.
With such a hip garden baby announcement sign you inform everyone in a unique way that your baby has been born! It will look great in your garden. You can choose your own size.
All necessary design hours are already included in the price. You can then continue this design in baby birth anouncement cards, baby birth announcement window stickers, baby birth flag lines and even baby birth anouncement sticker stamps.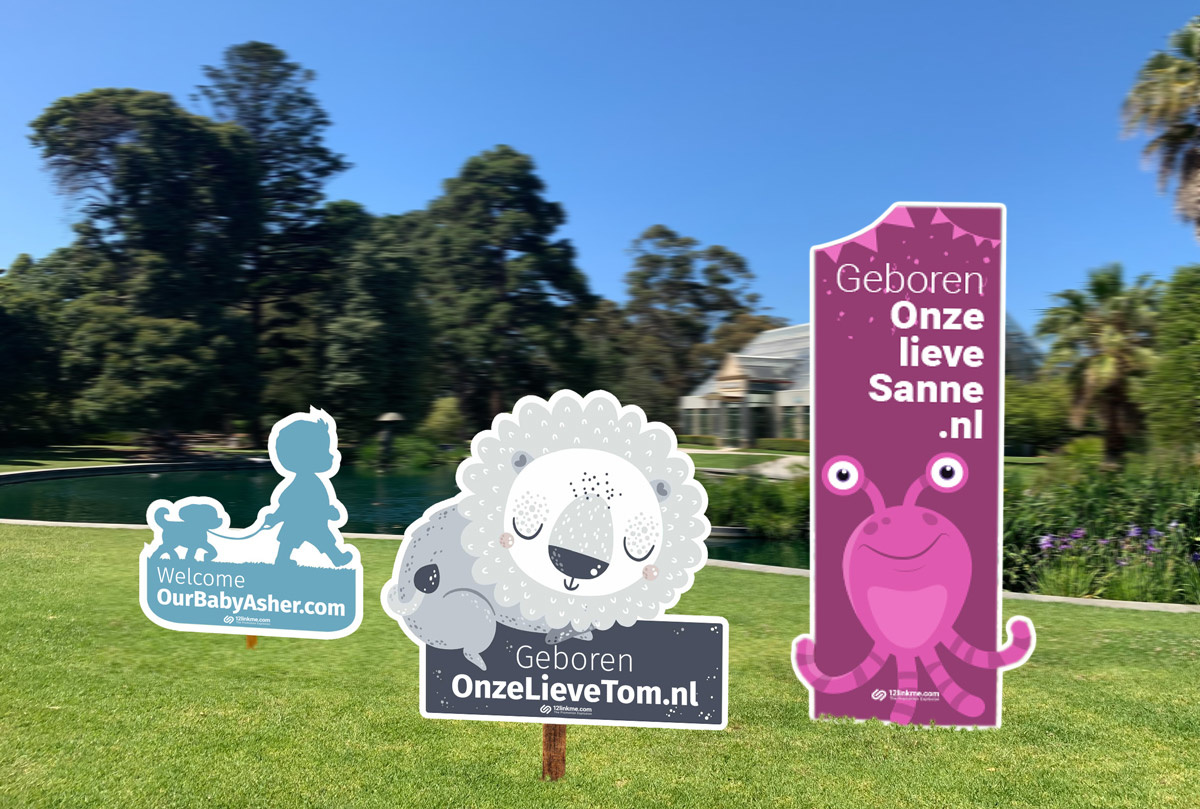 Now everyone can 'interactively' in their own way, via your own chosen nice 12linkme name, directly respond to your brand new Facebook or, for example, Insta post or photo album of the birth of the most beautiful child in the world.
This way, as new parents, you can cherish the first moments of your newborn baby's life for a long time to come. Or as friends you give a very special interactive gift for their garden.
1..2..linkme > Boom. ANNOUNCEMENT!
Benefits
 A unique interactive birth sign. In your own colours, shape and design.
 Our Designers work out your design idea all-in.
 Easy to apply in the ground with a (wooden) post (not included).
 For special events and immediately stands out in the street.
 Storm proof. Up to wind force 5-8.
 Easy to remove again.
 The quality is so good that the board can be reused.
The sign can also be made as
a window sign
in the same custom design.
Custom design: 'Ask us more!'
Express yourself
With this Original Promotion our 12linkme Designers simply bring your Promotion wishes to life in your own unigue and sensational Design. Boom. The required design hours are included and are already included in the product price.
Do you have a different and even awesome Promotion idea? Other dimensions? Other materials? Other application? Then click on the 'Ask us more!' menu item and our Designers will immediately make an attractive personal all-in offer for you.
Why does the 12linkme approach work?
Sell your house online with much more response. This is how you do it!
| | |
| --- | --- |
| Quality | Professional Top Quality |
| Material | Forex (hard foamed PVC) |
| Printing | Full color single sided |
| Thickness | 5 mm |
| Coating | Matte |
| Shape | Any desirable vector shape |
| Subscription | Yes after 1 month |
Reviews
0 stars based on 0 reviews
Add your review
Review Interactive baby announcement lawn sign in your own design create and order 'Original' top quality L-XXL
Questions


We love to help you

Always available. Preferably online 24/7. By telephone from 9 am to 5 pm CET Mon-Fri.